Meeting Twila
March 18, 2017 @ 8:00 am

-

5:00 pm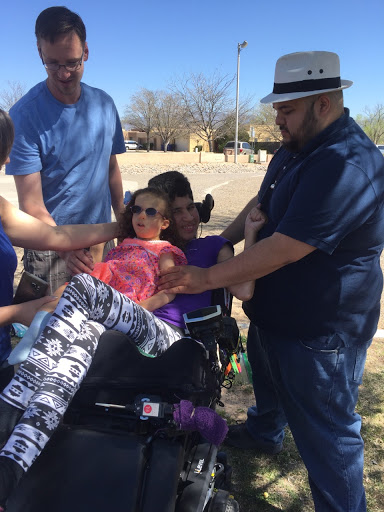 On Saturday, March 18th, 2017, Melinda, Marcus and I met our family who wanted help from Every Ability Plays Project. It is a very beautiful little girl named Twila. She is 5 years old. Twila's disorder is called Trisomy 18, also known as Edward's Syndrome.
Her dad liked the Every Ability Plays Project Facebook page. I noticed he had a little girl who had a disability. To reach out to him, I had to send him a friend request from my personal page. A few days later, he asked how Twila could be involved with this project. I told him what we were trying to do. I asked what the closest park to his house was. He told me. My OT student and I got to interview the family. The funny thing is that Twila's grandma is one of my nurses. She would tell me about Twila. At the end of the interview, she told them to put Twila on my lap to take our picture. That was very special to me.
That Sunday, I emailed Susannah Abbey telling her about this beautiful little girl, but I had to email her twice to hear back from her. That Thursday, she emailed back saying she would go out to the park to see what we could do.
We never got to purchase any play equipment for Twila. At the time we met this family, her dad was thinking about moving to a different part of town. We were very blessed Twila's dad took her to a few of our fundraiser events.